Casting Notes: Anthony Hopkins Gets a Co-Star for The Rite; Timothy Dalton in The Tourist; Matt Bomer and Ari Graynor in What's Your Number?
: "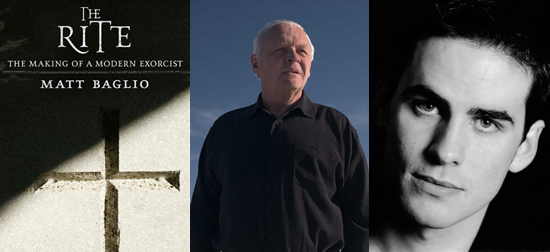 I'm pretty curious about the Anthony Hopkins film The Rite, which is based upon the book The Rite: The Making of a Modern Exorcist, by Matt Baglio. The book is about the real-world practice of exorcism, and the Michael Petroni script is said to be faithful to it. Hopkins will play "a priest who is an expert in exorcisms and whose methods are not necessarily traditional."
Now Colin O'Donoghue (The Tudors) is likely to play the seminary student who is tutored by Hopkins in the rites, and finds spiritual growth in the process. Solid casting there; Mikael Hafstrom directs.[Variety]
After the break, news on The Tourist and the Anna Faris comedy What's Your Number?


Timothy Dalton and Steven Berkoff are beefing up the cast of the Johnny Depp / Angelina Jolie picture The Tourist, which also recently added Paul Bettany and Rufus Sewell. Florian Henckel von Donnersmarck is shooting the film in Venice from a script by Julian Fellowes and Christopher McQuarrie. [Variety]
Finally, there's What's Your Number?, an Anna Faris comedy that we've talked about briefly in the past. At the time she was set to co-star with Chris Evans, but I wonder if that's going to happen now that he's Mr. Captain America. (Trade reports say Evans is still part of the proceedings, which shoot this spring.)
In the meantime, the adaptation of Karyn Bosnak's book of the same name has snagged a couple other actors: Matt Bomer (White Collar, Chuck) and Ari Graynor (Nick and Norah's Infinite Playlist). They're part of the story of "a woman (Faris) who treks through her sexual past to find Mr. Right, exploring the idea of sexual quotas and whether such numbers matter." Bomer is her dream guy; Graynor will be her sister, whose wedding forms the backdrop for some of the story. [THR]

"