Cool Stuff: The Dialogue Series - "Like Inside The Actors Studio For Screenwriters"
: "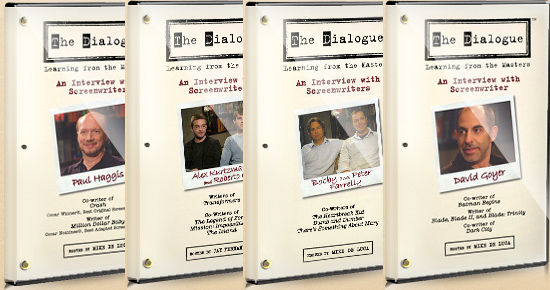 Last month I received an e-mail from a friend informing me about a screenwriter-focused interview series called The Dialogue. The 70-90 minute long-form interview series features interviews conducted/hosted by Mike De Luca (former president of production at DreamWorks Pictures and New Line Cinema, where he produced American History X, Magnolia, Boogie Nights) and Jay Fernandez, and feauring interviews with some of the most interesting screenwriters today, including:
Stuart Beattie, Sheldon Turner, David Goyer, Paul Haggis, Jim Uhls, Ted Griffin, Ganz Mandel, Jose Rivera, Scott Rosenberg, Callie Khouri, John Hamburg, Nick Kazan, Jonathan Hensleigh, Robin Swicord, Marshall Herskovitz, Nia Vardalos, Billy Ray, Paul Attanasio, Susannah Grant, Bruce Joel Rubin, Kurtzman-Orci, David Seltzer, Simon Kinberg, Jeff Nathanson, Ed Solomon, Peter Tolan, Farrelly Bros and more.
Unlike the how-to books, these interviews focus on how some of the most successful professional screenwriters in the business today create their stories, made it to where they are, and work in the industry.
Read the rest of this post on SlashFilm.com…

Here are some possibly related posts:
"