First Look: The Adjustment Bureau
: "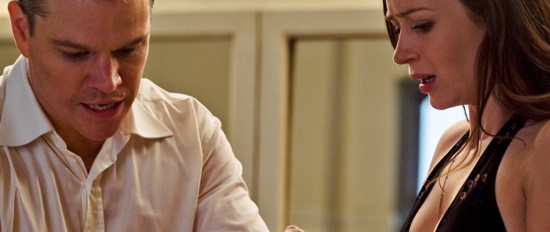 Universal Pictures has released the first two photos from George Nolfi's The Adjustment Bureau. The movie is a sci-fi romance based on the Philip K Dick short story The Adjustment Team. The movie follows an affair between a politician and a ballerina, which is "affected by mysterious forces keeping the lovers apart."
The film stars Matt Damon, Emily Blunt, Anthony Mackie, John Slattery, Shohreh Aghdashloo, Michael Kelly and Terence Stamp. Take a look at the first two photos after the jump, and you too, can discover what Damon and Blunt are looking at. The movie hits theaters in late July, so we should expect to see a trailer sooner than later. Possibly attached to Universal/Ridley Scott's Robin Hood? But that is just a guess…
Read the rest of this post on SlashFilm.com…

Here are some possibly related posts:
"